SOTRA TRACKS WITH ACCUMULATION TRACK
Our track changers are manufactured and installed both as horizontal and vertical exchangers for feeding marked boxes to the correct line.
DISTRIBUTION WITHIN PALLETING ROBOTS

ALLOCATION OF APPROVED CASES BY DEGREES

DISTRIBUTION OF BOXES WHICH ARE NOT APPROVED, AND NEED TO BE REMOVED TO ALTERNATIVE PLACES IN PRODUCTION
SOTRA STAINLESS ACCUMULATION TRACKS
With experience from installing palletizing robots and distributing their boxes from ice dosing, lid laying and strapping – we have clearly seen the need to accumulate boxes in advance of the palletizing output.
Previously, we installed plastic tracks with plastic rolls, and this caused unintended wear on the boxes. These plastic structures were not adapted to existing chain lanes that the customer often had.
Our company therefore developed Sotra Stainless Free Accumulation Tracks that can accumulate up to 25-30 boxes in a row.
We also use the same accumulation tracks for lifting and feeding to pickup points for the robots.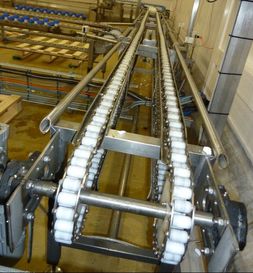 SOTRA BOX TRACKS
In order to achieve maximum productivity and good line management, it is important that the packers use the box paths alternately as:
Accumulation lanes / box conveyors / acceleration lanes / lanes with turns
or
Tracks for lifting to, for example, wrong-dosed boxes or for palletising.
All checkout tracks are recommended to be connected to a separate control cabinet where the boxes are scanned after labelling to be guided into the correct position.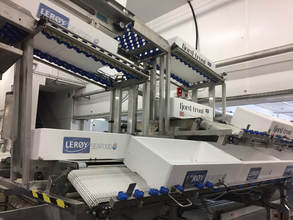 SOTRA MASKIN PRODUKTER AS
.