SOTRA ICE WEIGHT
Our ice weights are available as single and double ice weights.
The ice weight is usually placed directly above the dispensing paths for crates.
Feed to the ice weights will always be with screws.
Capacity: 12 boxes / minute.
Accuracy: +/- 3%.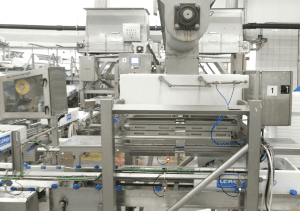 SOTRA ICE SHAKER
The ice shaker is designed to distribute the ice in the box both in advance of manual and automatic lid application.
The ice shaker also distributes ice between the fish in the box so that the melt water provides a better cooling of the product.

SOTRA ICE SCREWS
When transporting ice in the production room, we always recommend transporting ice with ice screws.
The ice screws can have several outlets from one main stem.

SOTRA MASKIN PRODUKTER AS
.