SOTRA BLEEDING TANK
Since 1995, we have recommended dividing the bleeding tank into two parts:
– Soaking part
– Output section
The tanks are then directly connected to a compressed air washer, which in turn feeds fish to the production line at a desired pace.
Adding compressed air to the bleed tank provides:
– Better rotation
– Helps coagulated pulp to be brought to the top of the tank and removed along the entire bleed length.
All of our tanks have run-off water at the top – along the entire tank.
CLEANER FISH

REDUCED USE OF WATER
SOTRA COOLING TANK
Compressed air is always added to our refrigeration tanks – in line with the compressed air washer.
By adding compressed air, you achieve:
Speed of water flow.
Several water molecules hit the fish.
Increased cooling in less time.
All of our tanks have run-off water at the top – along the entire tank.
The cooling tank is also equipped with compressed air washers at the end to achieve a smooth and productive supply to Grader.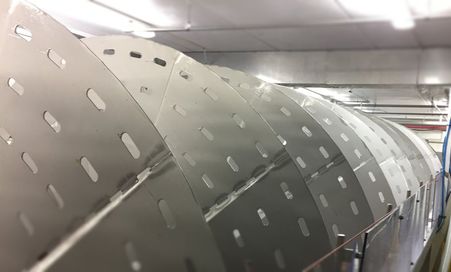 SOTRA COMPRESSED AIR CLEANERS
Sotra Compressed air cleaners are often mounted together with bleeding and cooling tanks.
This is to achieve higher productivity on the slaughter and parcel lines, as well as to get cleaner fish in production.
All of the 104 compressed air washers produced as of today are equipped with stainless steel wire ribbons, to better control the cleaning of the product.
When connecting air to the bottom of the compressed air cleaner, the fish is kept in rotation – which contributes to cleaner fish.
SOTRA MASKIN PRODUKTER AS
.